The mystery about VIP origins could be solved
After their apparition at Cannes Film Festival, there are still many questions without any answer about the mysterious VIP (in French vrais individus en pierre which can be translated by "real stoned individuals".
Where are they coming from, these who distinguish from the rocky mass of their fellow creatures?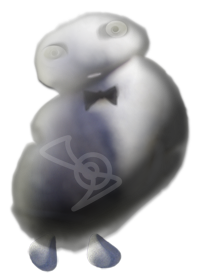 Some people say a single stone could once have gone in another way and that would have been sufficient to establish a new order. But that hypothesis can't explain why that new order would have produced such individuals doted with distinction and elegance rather than any other form of complex organization.

Scientists still discuss and argue without coming to any conclusion.

There seems to have no explanation of the VIP origins, except for our flash demonstration of this month. Where are these famous VIP coming from? Is it from the meerschaum or from the waves, is it from the sun or from the sea?
Isn't it rather from pixels in the heart of a 3D particle system, as it appears in our flash application of this month where these beings made of stone and wind fly over the Bay of Angels Beach as stars in the center of the Milky Way?
The chronicler