Miraculous apparition during Cannes Film Festival
The stones from Nice, who have honored our virtual gallery opening by their presence (see our last chronicle), have also been to Cannes Film Festival to go down the famous steps.
With the ritual bow tie, the most elegant stones from Nice had to be where the photographs were waiting for them to take pictures.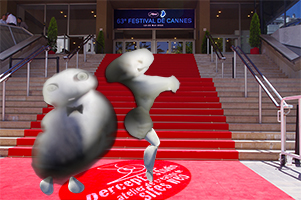 Upon the waves of our nice Riviera still flies the souvenir of that uncommon event.

On a few pictures, a certain regard can see, what a miracle indeed, the short apparition of our web agency's logo shining on the red carpet that so many stars honored with their famous feet.

That miraculous phenomenon remains still unexplained; it could be a consequence of a high activity in the virtual space causing a perception distortion.
The chronicler