Virtual Gallery Art Building
You may have a wide room but without any wall to hang up your masterpieces. Before our virtual work, space seems too small to show your art. We just need one or a few pictures of your room to fit it and make an authentic art gallery. The secret of that miracle is the vanishing point method.

This method consists in drawing the plans composing the room in a vanishing point perspective.
Plan after plan, the room is rebuilt with colors, textures or any chosen pattern. Each plan can be modified in respect of a perspective view proportions.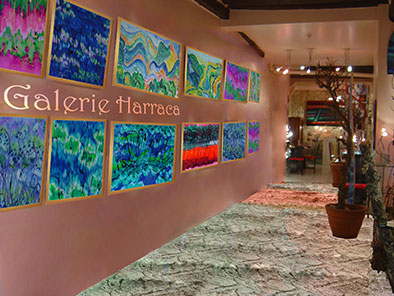 Thanks to this method and with a photo where room plans and their perspective clearly appear without anything breaking out the perspective lines, we can add a parallel wall to one of the plans and hang paintings on it.
To create an art gallery from a picture, it is highly important that no obstacle breaks the perspective lines, that the eyes can follow these lines without any interruption.

Then the art gallery can be built, on such a wall as a theatre's decorum where paintings are being directed as actors on a scene, false wall where art is shown on a place it wasn't expected to be.
Here are, as it appears in the flash version of our chronicle, the seven steps to built virtually an art gallery from a initial picture of an un-virtual room:
1) Drawing the planes,
2) Creating the wall,
3) Renewing the ground,
4) Monochrome series,
5) Title engraving,
6) Hanging,
7) Framing.
The virtual varnishing day and the official opening of the virtual gallery are planned for next month. Our next chronicle will furnish all information to our readers concerning that unavoidable virtual event happening on our website and nowhere else.
The chronicler