Ghost House
Welcome to our Ghost House. In the virtual space, it is actually getting possible to visit such a house built with illusions and percept effects. You just have to use the arrow keys and the mouse to walk around this strange place.
Exclusively in our chronicle, the visit that estate agents dreamed about, without being able to offer it to their customers, the visit of a Ghost House.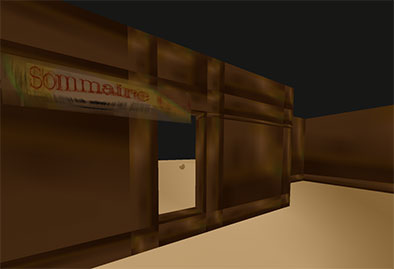 Coming from nowhere, a wall appears, at the same time, another one is vanishing from the visible world. A wall rises up and then is eaten by a dull and heavy atmosphere. A light is rising over a façade and then disappears suddenly, a fluorescent flash escaped from nowhere. The night is there, and its darkness crashes into the brown walls of the room. The headline of a newspaper levitates in the gloomy air. Is it a night? Is it a dream? The newspaper seems to expand. Usually, the papers do not dilate like this, it looks like prints lead submerged by a fire. And that newspaper resounds like cymbals into a grave. A tiny sphere resounds also with the same distant noise and goes always into our horizon, pointing beyond our tracks in that strange space of a room haunted by ephemeral perceptions.
Where do these walls come from? How have these walls been built? What is the code, what is the software? Our next chronicle will tell you the answer and perhaps reveal the origin of our mysterious haunted house. Promise of revelations about an unexplained phenomenon?
The chronicler